Oh, Hasbro. You understand me. Sometimes I just want to run around and shoot my friends with foam darts while pretending that I'm trying to escape a building that's overrun with zombies. My coworkers don't always appreciate it. So imagine my delight to find out that NERF will soon be releasing this beauty: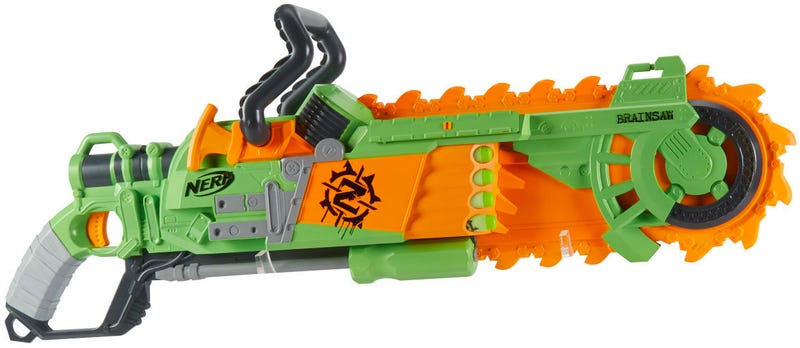 *angels singing from the heavens*
This is the upcoming Zombie Strike Brainsaw Blaster. The toy gun fires eight foam darts, but what really makes it unique is the working foam chainsaw. No more pretending. Unlike other chainsaw toys, the foam saw blade actually rotates. I, for one, am very much looking forward to sawing my friends' faces off. Pretending to, I mean. "Pretending".
The Brainsaw Blaster isn't the only new NERF gun hitting the market. Hasbro put out a preview of several new Nerf models it plans to show off at the 2016 New York Toy Fair. Check out these bad boys:
Doomlands Double-Dealer Blaster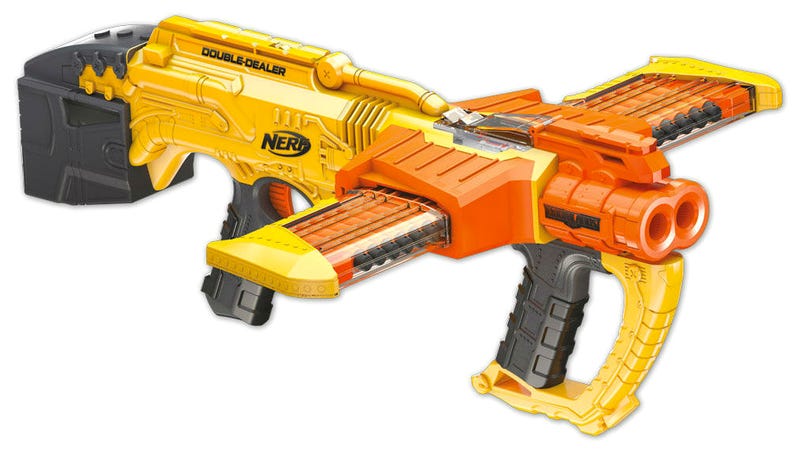 The Doomlands Double-Dealer Blaster holds 24 darts in two clear clips. The blaster fires two darts at once, or you can hold down the trigger and pump to fire. It has the look of a crossbow with the firing style and heft of a shotgun. Like previous Doomlands models, clear plastic lets the handler see the inner workings in action.
Elite Hyperfire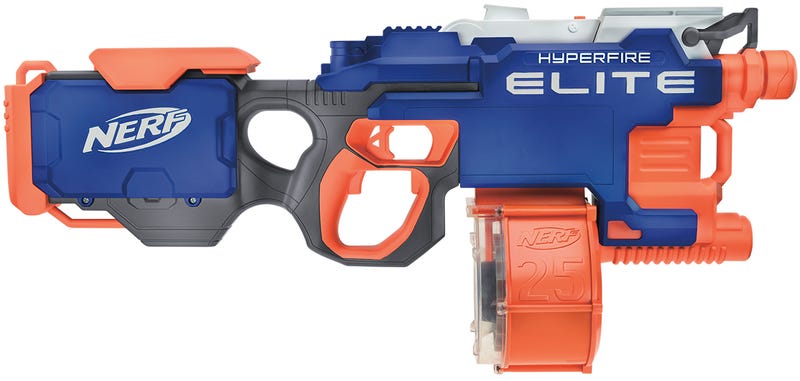 If your play style is more focused on quantity over quality, then you'll probably enjoy the Elite Hyperfire. This beast contains a D-battery powered motor that allows for fully automatic fire. NERF claims that it will be able to burst out five darts per second. The drum holds 25 darts, which will allow for five seconds of mass foam destruction, so make 'em count.
Mega Mastodon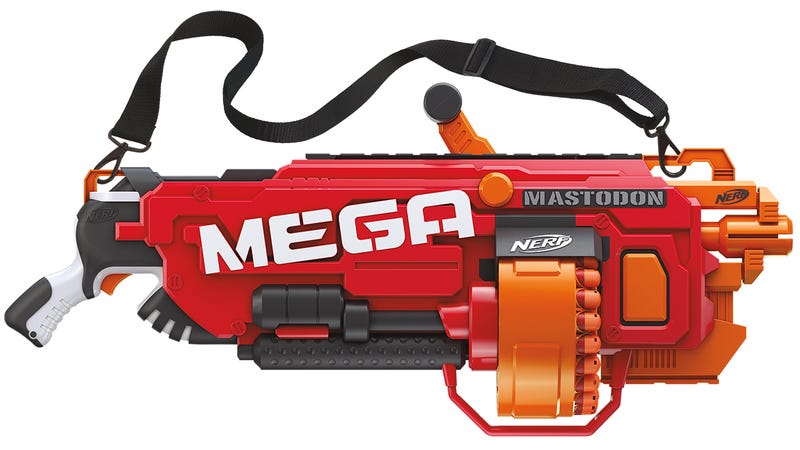 Coming to the Mega line is the Mega Mastodon. The Mega line uses extra large darts and boasts hefty guns for people who enjoy a bulkier look. The Mastodon will be the first in the Mega line that will have a battery operated motor, which will allow users to fire up to 24 extra large darts in quick succession. Plus, this model will include a shoulder strap to free up a hand for other guns.
Modulus Tri-Strike
The Modulus Tri-Strike is the blaster for the player who just can't decide just what they want to shoot. The model can be customized with interchangeable parts. Not only that, its attachments allow players to fire regular darts, over-sized Mega darts, and Nerf missiles.
Rival Khaos MXVI-4000
The Rival Khaos MXVI-4000 is said to be a fully automatic version of last year's Rival model. The Rival line of Nerf blasters fires small foam balls instead of darts, at a rate of up to 70 MPH. From my experience, high speed also means longer range and accuracy. The battery-powered automation feature will allow the wielder to unload the entire 40-round magazine just by holding the trigger.
The new toys will retail in the range of $30-$80 when they release later this year. Which of these blasters suits your gaming style? Let us know in the comments!
Featured image credit: Teagan Morrison
Image credits: Hasbro