At the 2016 Olympics' closing ceremonies, Shinzō Abe saw fit to finally shed a secret he's been keeping up for more than 30 years. Indeed, as he leaped out of a giant sewer pipe situated at the center of Rio's Maracanã Stadium, the prime minister revealed he's actually been Earth's most famous plumber, all along…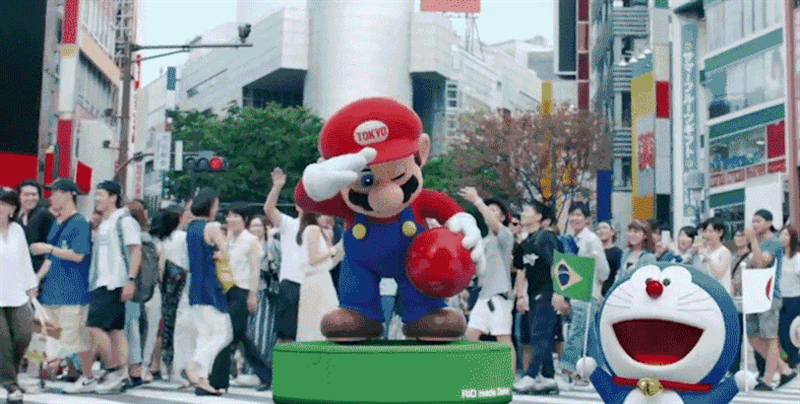 Anybody who doubts cosplay's far greater prevalence in Japan needn't look any further: there's the country's actual leader donning Super Mario's signature red cap and blue overalls.
Of all the ways to mark a symbolic baton passing before the 2020 Tokyo games, Abe-san performed in a highly meta show wherein a red ball passes between a succession of pro athletes and characters from games and anime. Pac-Man, his ghosts, and even Hello Kitty showed up before Mario finally warped across the ocean to reveal his true identity to the world.
The whole production had a very Daicon IV feel–speaking to how otaku truly have taken over, perhaps. Still, certain pop culture references translate better than others, so some might've been confused about who exactly that odd, blue cat thing was that enabled Mario' s trans-Pacific jaunt?

That is, in fact, Doraemon–a robot cat from the future. He's actually a far more storied pop icon than Mario, appearing in all media, almost continuously, for nearly 50 years. He fits in basically the same roles as both Mickey Mouse and Mr. Rogers, having delighted generations of children with a plethora of adventures that are largely (though not exclusively) educational, and pressing his face on basically every kind of merch available.
Doraemon's inclusion in the closing ceremonies bolsters speculations that the next Olympics may be the geekiest yet. To wit, Mario's appearance finally realizes the years he's spent competing with Sonic the Hedgehog in Olympics in cutesy decathlons. And of course, it's worth noting that the 2020 games' location was actually picked, several decades in advance, by that post-Apocalyptic manga, Akira.
Image Credits: International Olympics Committee, Shogakukan
Featured Image Credit: International Olympics Committee