In a recent presentation, children's media empire Nickelodeon announced plans to create a live-action movie based on Legends of the Hidden Temple, which is pushing our nostalgia buttons. Hard.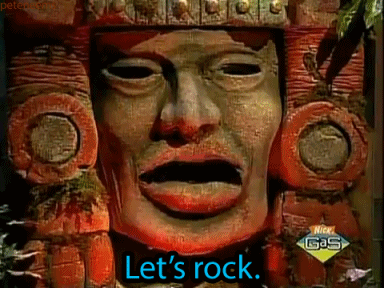 Legends of the Hidden Temple was a game show that ran from 1993-1995. Six teams of two children, one male and one female, would compete in a series of physical and trivia elimination challenges. In round one, "The Moat," teams would have to get both players across a moat in a specific manner and hit a button. Round two was "The Steps of Knowledge" in which Olmec, a giant head voiced by Dee Bradley Baker, would relay a legend. The first two teams to correctly answer three questions moved on. Round three would consist of the "Temple Games" in which the finalists would take on a physical challenges to earn "Pendants of Life," which they could use inside the Temple during the final round. Whoever had the most pendants was the winner.
Then came the really fun part: The Temple Run. To win the grand prize, the final team needed to race through each room and complete challenges along the way, find a specified artifact, and escape the temple before three minutes expired. Completing the challenges would unlock a door that would take them to the next room. In some of these rooms, temple guards would lay in wait to capture the player (and usually scare the pants off them). If the player had a full Pendant of Life from the previous round, they could hand that to the guard and continue, but if they were caught without a pendant, their turn was over.
As for the new movie, not much is known yet. The story will revolve around three siblings who are trying to survive their situation. Hmm, lost in a jungle maybe? The film will feature many of the game show's concepts including Olmec, the Steps of Knowledge, and the team names such as the Green Monkeys and Silver Snakes. If I had to wager a guess, I would think the plot would be about three siblings trying to survive the Temple's traps and guards in order to find a mysterious artifact that will save their family or school project or something of the like. Hopefully the movie will pay tribute to the Shrine of the Silver Monkey which, for some reason, contestants always had an unusually difficult time assembling. Yes, there definitely needs to be a scene where the two smarter siblings can't figure out how to assemble the Silver Monkey and the third sibling does it in about five seconds because "Duh, it's just THREE pieces!"
Nickelodeon's Legends of the Hidden Temple movie will premiere sometime this fall. What do you hope to see from this TV movie tribute? Let us know in the comments!
Image credits: Nickelodeon