Geek & Sundry Painters Guild is hosted by Will Friedle as he explores the wonderful world of the miniature hobby! From painting minis for board games, miniature wargames, and RPGs to scratch building showpieces and creating terrain, you can learn alongside him from master teachers every episode.
Below are the minis and paints used in each episode, as well as a gallery showing you the step-by-step progress so you can see how they got to the final product (Will's miniature is always depicted on the left, in case you wanted to compare with your own).
Each episode walks you through the technique, so if you want to hobby along with Will but aren't aren't yet a subscriber to Alpha, you can get a free 60-day trial by going to projectalpha.com and using the code MINI. 
Lesson 1 – Advanced Weathering
In episodes 1 and 2, painting master Bryan Merlonghi shows Will some advanced weathering techniques using the following mini and paints:
Model: Games Workshop – Plagueburst Crawler
Paints: Formula P3 Umbral Umber, Formula P3 Khador Red Highlight, Formula P3 Bloodstone, Formula P3 Jack Bone, Formula P3 Sickly Skin, Citadel's Texture Stirland Mud, Citadel's Technical Nihilakh Oxide
Shades: Citadel's Reikland Fleshshade & Citadel's Agrax Earthshade
Primer: Zenithal Primed (Citadel White and Black Primer)
The miniature was base coated with Badger Styrinez Olive Green, with the metallic silver and gold details painted with Army Painter's Gun Metal and Vallejo's Brass before the start of the episode.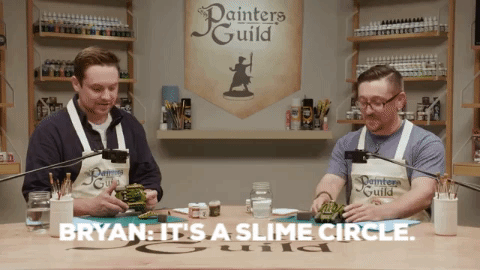 Bryan was kind enough to offer us some painting wisdom, particularly to those new to the hobby. Here's what he had to say to encourage new and developing hobbyists, as well as the one product he considers indispensable:
"True fact: My first hundred miniatures were terrible, my next hundred looked worse, but my mom kept telling me to keep it up, that she saw the improvement. So I never stopped. Sometimes it takes even pros hundreds of times to get it right. Never give up. Also, the number one hobby product you should invest in is a good, crack-finding brown wash."
Episode 1 Step-by-Step Gallery
You can catch all the episodes of Geek & Sundry Painters Guild (including those from Season 1 and 2) exclusively on Alpha! If you're not already a member, you can get a free 60-day trial by going to projectalpha.com and using the code MINI. 
More mini painting goodness!