International Tabletop Day is a chance to spend all day playing board games with friends. Many participants take the day to sample several games ranging from old favorites to new discoveries, while others clear out the whole day to play one of those long board games that requires several hours to play. If you're one of the latter, I'm going to suggest you check out Flying Frog Productions' epic love letter to Tomb Raider, Indiana Jones and all the other treasure hunters that prefer to travel by a red line running across a map. Why not spend this International Tabletop Day searching the globe for a little bit of Fortune and Glory?
This big board game was released in 2012 as something of a departure from the games that put Flying Frog on the map. Previous games like Last Night on Earth and A Touch of Evil were grid based monster hunts that replicated the feel of old B-movies. Fortune and Glory kept things to the world map but is no less cinematic. Players choose characters like plucky mechanics, archaeologists, and nightclub singers and then set off to acquire Fortune by picking up artifacts across the world.
Artifacts are generated at the beginning of each game by combining a pair of cards for cool sounding widgets like The Sword of Odin or The Eye of Death. Players must overcome dangers drawn from a special deck by using their character's skills. If the character succeeds, they move forward toward claiming the artifact. If the character fails, the card turns over to reveal a cliffhanger…and it's resolved at the start of the player's next turn. This small mechanical element gives the game a real burst of pulp flavor by leaving players wondering about their fate as they see their character hurling toward the edge in a car without brakes or trapped in an ancient room filling with water.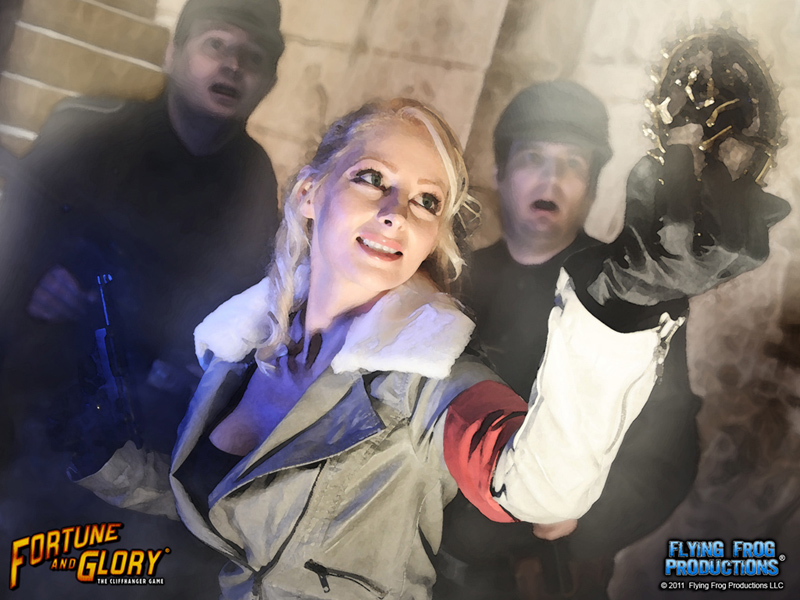 The game comes with competitive rules where each fortune hunter is out for themselves. It really shines while using the cooperative rules as the players take on a big global organization to keep from taking over the world with mystic artifacts. These organizations include the Mob, the Nazis and, in one of the expansions, the Crimson Hand. When fighting the full organization, each group has their own rival hunters out in the world looking to face off against the heroes.
There are two large expansions. Rise of the Crimson Hand adds more cards to every deck and the Crimson Hand Evil Organization. Treasure Hunters adds more character choices, even more cards and a personal objective deck that, in a rare occurrence for expansions, speeds up play by getting players more chances for victory points. The website also offers two small expansions for Cairo and additional dangers, though these decks are also usually available at conventions where Flying Frog has a presence, like Gen Con.
Playing a big game like this with all the expansions is a great way to spend International Tabletop Day with friends. Play it at your home to create epic memories with your friends or at your Friendly Local Game Store to make new friends while racing out of a crumbling temple.
What is your favorite pulp adventure? Let us know in the comments.
Images courtesy Flying Frog Productions
---
Rob Wieland is an author, game designer and professional nerd. He writes about kaiju, Jedi, gangsters, elves, Vulcans and sometimes all of them at the same time. His blog is here, his Twitter is here and his meat body can be found in scenic Milwaukee, WI.