If we learned anything from 2015, it's that geek is back in style. Geeky entertainment is having a heyday and we're here to celebrate! Today we'd like to take a moment to look back at 2015 and reflect on the female characters in geek media. From movies to comics, here are our favorite females of geekdom from 2015!
Movies
Scarlet Witch
Wanda Maximoff was finally introduced to the Marvel Cinematic Universe in 2015 with the release of Age of Ultron. She and her twin brother, Pietro, have a tragic backstory, causing the twins to work against the Avengers until they realize Ultron's true intentions. The Scarlet Witch is extremely powerful and can take down almost anyone in her way. At the same time, she is extremely caring, sharing a special bond with her brother and always trying to protect him.
Image Credit: Marvel
The Wasp
Though we only got small glimpses in Ant-Man of the original Wasp, Janet Van Dyne, the film introduces her daughter, Hope, as the future Wasp. Hope is fierce, fearless, and acts as a guide for Ant-Man. In addition, she's extremely intelligent and is able to hold her own in any intellectual discourse, even against her father, Hank Pym, the inventor of the Ant-Man and Wasp technology.
Image Credit: Marvel
Furiosa
There is no doubt that Mad Max: Fury Road was a smash hit in 2015. The film features a strong cast of characters, including many women, but no character is as strong as Imperator Furiosa. This fearless warrior was kidnapped as a child and eventually rose through the ranks to become Immortan Joe's top Imperator. However, Furiosa worked to free his wives from his power, stealing a war rig for their escape. Furiosa is highly intelligent, fearless, compassionate, and a total BAMF!
Image Credit: RatPac-Dune Entertainment
Rey and Leia
Yes, we know we're cheating by showcasing two women in one entry, but how do you pick between these two Star Wars gals? As anyone familiar with the franchise can tell you, Leia is a strong woman, unafraid to challenge the Galactic Empire or acknowledge her emotions. Rey, however, is our newest female lead in the Star Wars Cinematic Universe. Like Leia, Rey is a strong, independent woman who could probably kick our butts from here to Hoth!
Image Credit: Walt Disney Studios Motion Pictures
TV
Agent Carter
Since her introduction in Captain America: The First Avenger, there has been no doubt that Peggy Carter is a depiction of a real, well-rounded, and awesome woman! With Agent Carter we just get more evidence of the awesome, with Peggy kicking butt, taking names, and delivering quippy lines that underscore the sexist attitudes present in the 1940's and, in some ways, 2015.
Image Credit: Marvel
Specialist Patterson
In this case, our awesome woman in a geek show is also awesomely geeky! FBI forensic specialist Patterson is smart, quirky, and fun. She's played by the equally awesome and, perhaps more, geeky Ashley Johnson, who plays Pike, the Gnome Cleric, on Critical Role. Check out Patterson's coffee mug in Blindspot and you might spot pixelated versions of your favorite Critical Role characters!
Image Credit: NBC
Charlie
How could we make a geeky women list and not include Charlie/Felicia Day? Charlie was a recurring geek goddess on Supernatural. In 2015, Charlie came back to the show, kicked butt and made more nerdy references than we could count! What would Hermione do? She'd fist bump Charlie for being an awesome woman of geek!
Image Credit: CW
Jessica Jones
No list of women in geekdom would be complete without mentioning the wonderful Jessica Jones. This super-powered detective stepped out of the comics and onto Netflix for us this year and, wow! We are so glad she did. Jessica is the perfect combination of dysfunctional human and resilient superhero. Her past is tragic and she has difficulties coping, like any person would, making her the tragic hero we needed to see in 2015.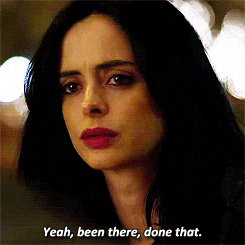 Image Credit: Marvel
Comics
Rya
Some of you may not be aware of the BAMF known as Rya from Birthright, and let me tell you, you don't know what you're missing! Though the series began in 2014, we've learned so much more about Rya in 2015. Rya is a fierce warrior, sometimes set in her ways, but dedicated to the cause. Perhaps the best part about Rya is that she proves you can be a warrior and nurturer at the same time. As many a mother, like Rya, will tell you, the two are rarely mutually exclusive.
Image Credit: Image Comics
Captain Marvel
In 2015, we got a new rendition of Captain Marvel with Captain Marvel and the Carol Corps. This newest version of Carol Danvers leads Alpha Flight in the protection of Earth from extraterrestrial threats. For those who just did a double-take, yes, Carol Danvers used to go by Ms. Marvel. However, in the new Marvel Universe, Carol is no longer the female counterpart to a male superhero. Carol stands alone as Captain Marvel, a strong, military woman who is in charge of protecting the entire planet.
Image Credit: Marvel
Thor
Last but not least, we needed to include the new Thor on our list. It was big news when Marvel announced that their new Thor comic would feature a female lead and, since then, Marvel's just shown us all how awesome this decision was. The new Thor's alter ego is Jane Foster, a woman associated with the Thor storyline for quite some time. Jane is battling cancer in addition to the forces of evil, is highly intelligent, and clearly, worthy of the power of Thor.
Image Credit: Marvel
And thus concludes our top geeky women of 2015! Who is your favorite geeky female character of 2015? Let us know in the comments!
Featured Image Credit: Marvel