Universal Studios released a new video today announcing that The Wizarding World of Harry Potter will open at Universal Studios Hollywood on April 7, 2016. You can check it out above. We can't wait to hop on the Hogwarts Express to Hollywood this Spring! Here are five things we hope to see there:
Butterbeer
Image credit: recipehubs.com
When I asked my friend what she would want to see most out of this attraction, the first thing out of her mouth was "Butterbeer!" According to her, Butterbeer is "butterscotch epicness." Universal's recipe is a secret, but it does not contain corn syrup, alcohol, or actual butter. According to the Huffington Post, the recipe went through 15-16 iterations before it was finally approved by Universal and J.K. Rowling herself. Apparently, it was good enough to make the author instantly smile.
Ollivander's Wand Shop
Image credit: Julia Thompson
Ollivander's, available at the Orlando attraction, is a truly immersive encounter. You can experience searching for and receiving your own personal wand which you can use to "cast spells" at various interactive points in Diagon Alley. It's about as close as any muggle can get to being an actual wand-wielding witch or wizard.
Magical Creatures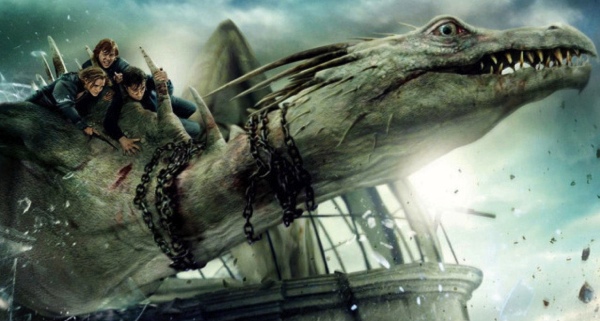 Image credit: Warner Bros.
Harry Potter is filled with magical creatures including griffins, unicorns, giant spiders, and even dragons. It would be cool to have a walk-through attraction narrated by Hagrid where visitors can see them up close and learn more about them beyond what was in the books.
Broom Riding
Image credit: Warner Bros.
Who hasn't read the Harry Potter books or watched the movies and thought, "I want to fly on a broom!"? Nobody, that's who. It would be neat to make it kind of like the E.T. ride where you're on a bicycle seat on a broom, and there are screens and wind to create the illusion of playing Quidditch or even fleeing the Death Eaters.
Hogwarts
Image credit: FlorentLlamas
Universal Studios in Orlando, Florida offers two sites: Hogsmeade and Diagon Alley. Both are cool in their own right, but what we really want is an explorable Hogwarts, stairs and all. Hogwarts is the main setting of the series, so even just a small glimpse into the castle would be an amazing experience. The Diagon Alley attraction earned quite a bit of praise for being so detail oriented, so why not do the same for the magic school itself?
What would you like to see at The Wizarding World of Harry Potter at Universal Studios Hollywood? Lets us know in the comments!
Featured image credit: Orlando Informer