Whether you love video games, tabletop games, or board games, or any combination of the three, there are dozens and dozens of upcoming projects worth your support. Here are five in-the-works projects to consider, now matter what type of gamer you are.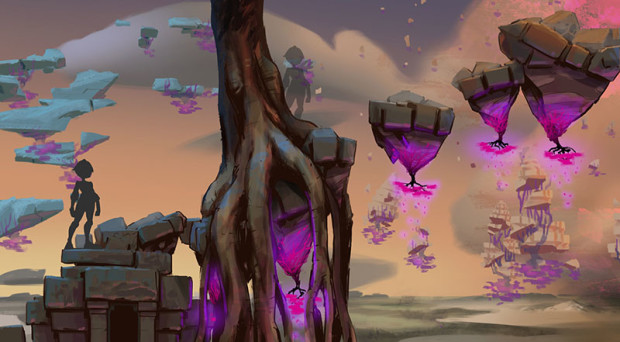 Image credit: Lab Zero Games
Skullgirls creator Lab Zero Games is teaming up with 505 Studios to bring you Indivisible, a new video game that combines the challenge of side-scrolling platforms with the combat style of an RPG a la Valkyrie Profile. When Anja's town is attacked by local warlords, she gains the power to absorb certain individuals to gain new powers, weapons, and summons. If funded, Indivisible will be released on PlayStation 4, Xbox One, and Steam for Windows/Mac/Linux. Lab Zero has a steep goal of $1.5 million which they will only receive if they reach full funding. If they achieve this goal, 505 Games will add another $2 million to the development.
Photo credit: Elderwood Boxes
You might want to sit down for this. Elderwood Boxes has designed a series of gorgeous and customizable gaming boxes. The boxes come in two designs: a "card deck" and a "rolling tray" for different gamer types. The boxes can be personalized with different woods, leathers, metals, and designs. You can even add removable foam inserts to secure your dice. For a few extra bucks, you can also order gold, silver, or lapis lazuli dice as well as Steampunk and Dwarven coins. The more contributions received, the more customization options they'll be able to offer.
Image credit: Gun Media
Gun Media's Friday the 13th: The Game is a multiplayer video game where one player takes on the role of iconic serial-killer Jason, and the others play camp counselors trying to survive. What makes the game so special is that the creative talent includes several people from the film franchises' production team. This is a product being made by the people who know and love Friday the 13th better than anybody on the planet. The tension is masterful and it's just as fun to play a counselor as it is Jason. Plus it's endorsed by video game expert Adam Sessler.
Image credit: Stonemaier Games

Do you dream of playing Civilization or Age of Empires with giant mechs? Well friend, your day is about to be made. Scythe is set in alternate-history, 1920s Eastern Europe. Five factions compete for land and knowledge around a mysterious place known as the Factory. You expand your empire through upgrades, building, and learning from the Factory. And then, of course, there's giant mech combat. Battles are determined by players decisions rather than the luck of the dice.
Image credit: Cheapass Games
Cheapass Games is revamping its original 1996 hit, Kill Doctor Lucky. The object of the lighthearted game is to follow Doctor Lucky into his mansion and murder him. Of course, he's called "Doctor Lucky" for a reason. The good doctor is incredibly difficult to kill because he's just so darn… lucky. Your opponents have the ability to intervene with your kill by discarding cards to improve the doctor's chances of evading your attempt. It's still reminiscent of the original game, but now offers improved movement, drawing, and two-player rules.
Let us know which upcoming games you're looking forward to!
Feature image credit: Lab Zero Games